It was in the week before Stina would become 60 years young, the 29th of March 2007. As usual, we left Amsterdam far too late, ended up in a lot of traffic jams, changed route several times, became even more delayed and stopped two o'clock in the night somewhere in France. I will recall that it was a parking place after we passed Auxerre. We would sleep a few hours in the Volvo V40, two adults and the dog Bonnie. She had started to hyperventilate again because of car sickness so the car became somewhat dampy inside. It was freezing cold outside and humid cold inside the car. After an hour, I put on the engine to idle, to get some warmth. The blankets were cold and moisty, we didn't get much sleep. At five o'clock, I started driving again. The coffee thermos was empty and the countryside north of Clermont-Ferrand was deserted and silent. I thought I would find some night open place to get something to eat and drink, but everything seemed closed. Speed cameras were the only life I met, three times they flashed (we never got any fines). After two hours, I left the helm to Stina and fell asleep. Woke up when the run became calmer, we had been driving for a while at the beautiful A75 after Clermont and we started talking about the night's tribulations: "This we won't do ever again! We´ll have to buy a travel car, a van like Mercedes Vito, there we can embed, get a good night sleep and make a cup of coffee whenever we please!" Before Viaduc Millau we had a coffee break, ate brunch and threw ball with Bonnie, on a beautiful French-Aire at Europe's most beautiful highway and that bridge is both the highest and most beautiful in Europe, no doubt! Late in the evening we arrived at our friends house in Sorède where we would celebrate Stina's sixtieth birthday. Our children and grandchildren flew down via Marseille and back to Sweden via Girona. We stayed for three weeks and had Easter dinner in lovely Argelès-sur-Mer. Bonnie got every few days to run on the beach after a ball, her major exercise instead of herding sheep. During the weeks in Sorède our thoughts and ideas about a travel car grew in proportion and had now become a compact van-converted camper, type Pössl, and we started to study them there they were parked along the beach boardwalk in Argeles, Collioure, Port-Vendres and elsewhere. Previously we had only looked at the yachts in all these ports, now we found ourselves looking for the appropriate camper! "But we will keep Amstel!" (our sailling yacht, HR Mistress 32)
2007 and 2008 we spend a lot of money on charter travels to Cyprus, Cape Verde, Gran Canaria and we discovered that all that money should have been more than sufficient to pay interest, costs and operation of a camper.
At Elmia Camper Show 2008, we looked at all the compact campers that were present and we came to the conclusion that they were very practical but poorly insulated and we questioned whether the space would be enough for us three to live in, half a year? Moreover, they were not cheaper than the slightly larger semi-integrated campers which we initially called, "Ice Cream Trucks". Fully integrated cars we called milk trucks, after English 60th century model and the coach-built with over cab bed, we contemptuously called removal vans. (Sorry, by then, we didn't knew any better, we knew absolutely nothing about motor homes or campers, we had been sailing most time of our lifes.)
Over time, plans thrive and have a tendency to grow. Now we would have a quick, moderately large, energy-efficient motor home that we could travel around and stay for at least six months with the goal northern Mediterranean coast. We set up criteria: fuel efficiency, good handling, easy to drive, max. 7m. long, low height so it can stand at home in the carport in summertime, at least 130 horses, large kitchen (preferably at an angle), toilet space that one fits in and a toilet seat that may have more place than a baby's ass, large fridge-freezer, no bed crosswise in the stern to avoid crawling over each other, better used but not older than 2007, cruise control, rear view camera. The demands became more but also clearer, the more motor homes we looked at. Requirement number one was decided first, max. 50.000 €, including any equipment, taxes and insurance for a full year. So the vehicle should cost no more than 45.000 €, not a cent more! This, in case we would detect that driving around in a camper is not quite our thing, or if we maybe decided that we deserved a better camper.
We started looking in October on the Internet. All weekends off and the whole Christmas vacation was spent, looking at motor homes in the south of Sweden. Before the New Year, we had found about ten campers that corresponded to our demands criteria, but most of them were also too expensive. We rounded up three cars which all costed 45.000 €. One, a German import, a blue Dethleffs/Renault, for sale at a dealer, Anders in Mellerud. Our second visit in Mellerud, Stina pointed and said: "The red Dethleffs, standing over there, I like that one too and it fits our requirements even better!" "That one is too expensive, costing fifty thousend" I replied. As she went out, walking the dog, I examined the red Dethleffs: model 2007, registrated since May 2008, 20.000 km, despite this it was like new. Noticeable that it was hardly used at all, all the equipment we wanted was already in place. I only got positive impressions and came pretty soon to an agree with Anders on my price demands, which he accepted.
So when Stina came back I was lying under the car and inspecting the undercarriage. Anders congratulated her on the purchase of the red Dethleffs. She was somewhat surprised and while I crawled from under the car, she asked: "How on earth did you manage to make up your mind so quickly?" I replied, "The blue fabrics on the seats are called Amsterdam, that may settle, I don't have the strength to look at any more campers, this vehicle and I have at least something in common!" She began to roar with laughter, I kept my poker face and continued "What's there to laugh about?" She said "I thought only women were shopping that way! You are totally out of your mind! Buying a camper for 50,000 € because the fabric is called Amsterdam???", "Yeah, and??? You said you liked it! I bought it for you, are you not satisfied now?" Laughing, she shook her head "No, no, no, it will certainly fit us fine!"
That's how it happened when we became owners of our first motor home, a beautiful red Dethleffs "Ice Cream Truck"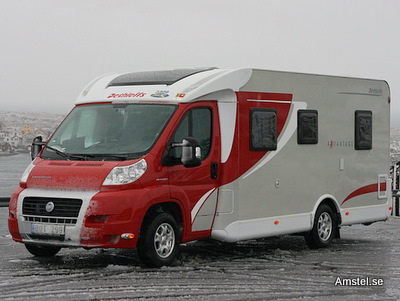 Kungshamn, February 2009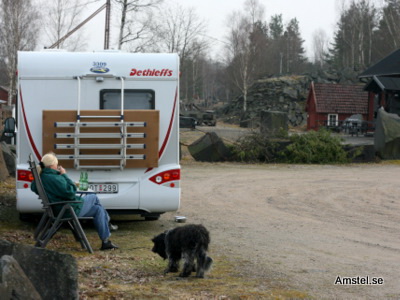 Svarta Bergen, Lönsboda, April 2009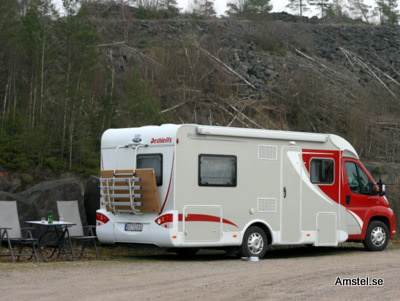 Svarta Bergen, Lönsboda, April 2009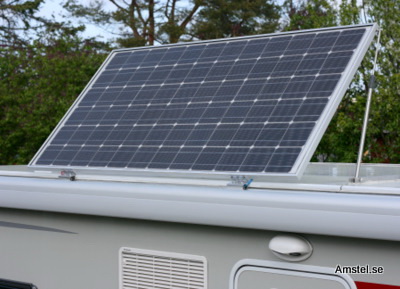 Morlanda, June 2009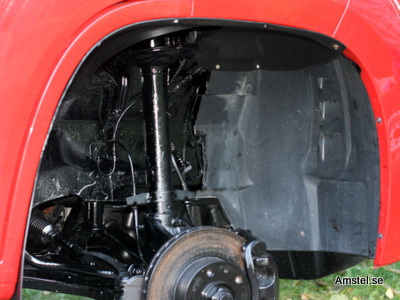 Morlanda, July 2009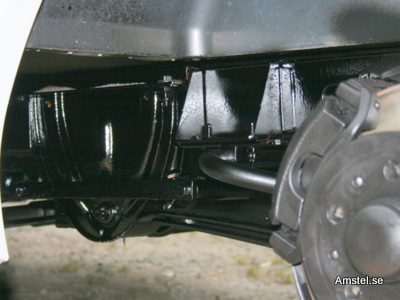 Morlanda, July 2009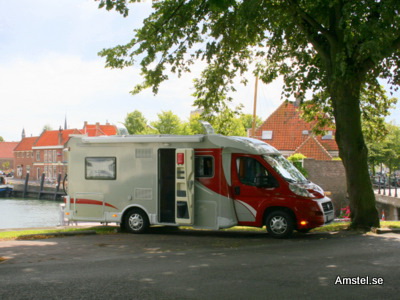 Brielle August 2009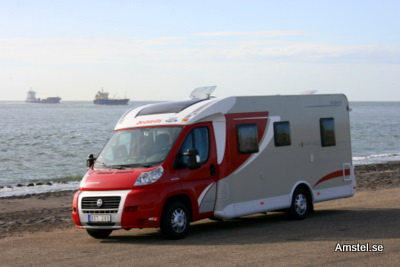 Vlissingen, August 2009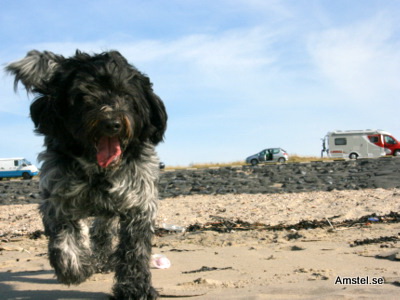 Baywatch at West-Kapelle, August 2009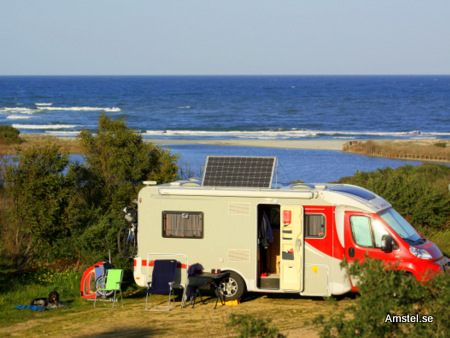 Free parking, Sardinia, March 2012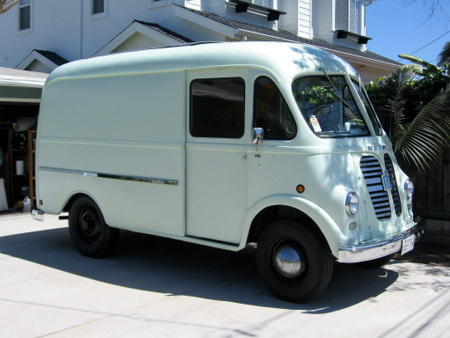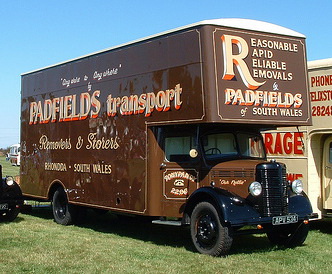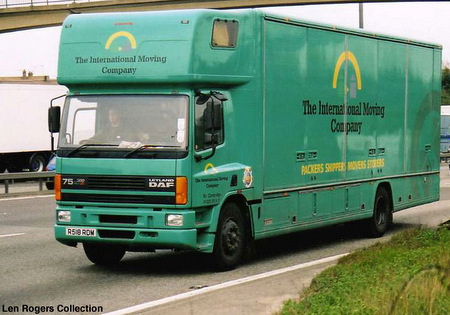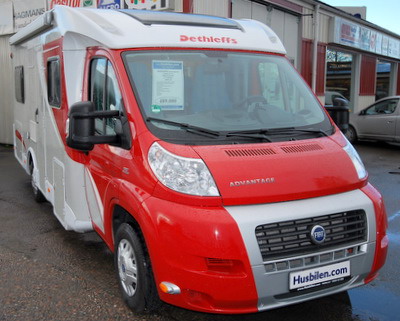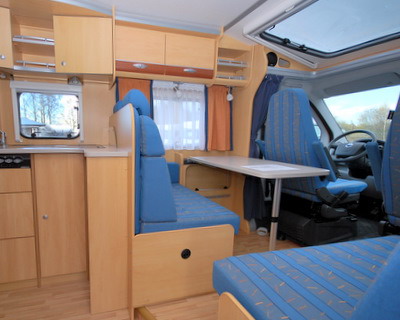 Husbilen.com Mellerud Advertise information

Modell

Dethleffs Advantage T 6501 B

General review

Gorgeous motorhome Dethleffs, with corner kitchen, in absolute mint condition!

Year

2007

Reg. date

April 2008

Engine

Fiat 2,3JTD turbodiesel 130 hp./96kW

Total weight

3495 kg.

Kerb weight

3095 kg.

Max payload

400 kg.

Mileage

22000 km.

Number of beds

3-4

Passenger seats

1+4

Length

725 cm.

Width

233 cm.

Height

267 cm.

Heat

Trumatic C6002 air heating

Fresh water tank

120 lit.

Waste water tank

110 lit.

Awning

Omnistor 5002

Cycle stand

For four cycles

Radio & CD

Kenwood KDC-W312

AC

Only in cabin

Refrigerator

Dometic RM7855L 144 lit. + freezer 31 lit.

Central locking

Yes

Electric windows

Yes

Electric mirrors

Yes

Reversing camera

Waeco PerfectView LCD250

Gas system

DuoComfort, two cyl. remote control,

Toilet

Thetford Casette C-403L 19lit.

Fabric

Amsterdam Blue

Miscellaneous
Warming up
Our motor home was a slightly secondhand, import from Germany with only three month warranty, so we had to travel a lot, to find all the faults. Summer tires on winter roads in Sweden is no good idea, so on top of our demands came winter tires as we would pick up the car on January 15th. Fortunately, just that day, the roads were free from snow and almost dry. The choice fell on aluminium wheels and friction tires that were purchased the week after, on a Friday afternoon. That same evening we were on the road in snow and slush in Dalsland where we stood in a cold winter landscape in Håverud. The heating did however, a very good job, just like all other technicalities throughout the camper. We were touring every weekend and a one week winter vacation, cruising around in south-western Sweden. In Karlsborg we ended up in two feet of snow and sixteen degrees below zero. At Läckö Castle there was even more snow but now it became a little warmer, about minus ten degrees Celsius. We used a lot of gas and it was not the cheapest either, but inside our cozy little camper it was warm and comfortable. The only thing we lacked was the swing and the sound of the waves. When we sailed in wintertime, we usually had significantly colder in our boat. We soon found out that propane gas was much cheaper using an adapter and filling our gas cylinders at the few LPG stations in Sweden. The need for electricity, or rather the limited availability is another problem we wanted to solve, but it had to wait until spring. In the middle of April, we drove back to Anders in Mellerud to use our guarantee. We had a long list of all the failures in our motor home, a full A4 sheet that I showed Anders. He glanced through the list and said, "That, we will arrange, everything, immediately!" The moment he shouted after his technician Daniel, I tore the paper out of his hands and grinned: "I'm just kidding, there's nothing wrong at all!" Happiest was Anders but it says enough about the level of service at Husbilen.com in Mellerud.
Returning home again, we changed all the light bulbs to LED, gel batteries went out and were replaced by two 80Ah marine batteries from the auto parts store with 3years warranty. Then came the Easter vacation and a ten days tour through southern Sweden. We bought an 185W solar panel in Vilshult, changed gas bottles from steel to aluminium in Åhus and followed Blekinge and Skåne coast where we visited many nice small fishing villages, old shipping villages and other ports. In summer the wheelhouses were mounted with mudguards and extra insulation. The entire undercarriage was oiled and got a Tectyl-treatment in the summer heat, but otherwise the motor home got some rest most of summertime with the exception of a two weeks trip to the Netherlands.
Portugal
We now felt quite warmed up with our camper life and started to plan for a long trip to Portugal. A journey that was the first major objective with our motor home. This little adventure, we have tried to describe in our diary at www.amstel.se/pt
Ahead of the Portugal tour, standard equipment was expanded with a spare wheel, four tire traction mats, a 10 ton cargo ratchet strap of 15m length, 2 extra reverse lights, 12V DC to 230V AC inverter 1000W, vacuum cleaner, gas grill and two bicycles. To navigate in Europe, our old TomTom One XL was good enough but to increase routing options and planning, Microsoft MapPoint does a better job in the laptop. In addition Google Earth & Maps are a great help when we have contact with the internet. The possibility of not finding home again was almost ruled out. Too bad, because we would have been happy to have stayed! "Portugal in forty-five days" gave a lot of taste. Compared to yachting, it was striking how much we saw and experienced in much less time. No need to pack as much either, we bought what we needed along the road.
Italy&Sicily
Before we drove over the Öresund-bridge, on our way home, we started to plan our next longer tour. Sicily was the intended target, but the whole of Italy has so much to offer, so we started researching about Italy and the concrete planning began in November 2010. But before that, we had to visit Holland for a week, in summer and took the opportunity to solve the problem of gas supply in Europe by replacing our Swedish gas cylinders by two fixed mounted LPG-gas tanks with automatic filling limiter and outside filler valve. In most parts of Europe, there are plenty of LPG stations, even in Sweden. Easy handling and cheap gas, no more bottle changing and adapter problems.
After Sicily, we didn't have much time for the motor home. The house and boats occupies most of one's free time. Some, one week long trips, were all. During the start of our travel to Italia, the camper was already equipped with a DC-DC charger, one night at Celle when we lost all electric power. A Cetek D250S Dual for efficient loading of our batteri system, was bought earlier but not yet installed. Night work! The following day, also the solar panel was connected to the D250S Dual and the IVT MPPT solar regulator ended up in the store. The whole system has worked as expected but we needed to loose weight, we were exceeding 3,5 Tons. The liftable bed was rebuilt, lightened from seizures and was screwed fast. The heavy original mattress was replaced with a thinner, lighter and softer mattress and a thick soft embedding mattress. All carpets went out and were replaced by lighter ones. All things we brought with us that we had not used, became subject to a critical scrutiny, did we really need it? The motor home was lightened with a lot of weight. Besides some new LED lighting, the alarm and security system was supplemented.
We thrive still very good with our Dethleffs camper and so far, we don't see any benefit in changing. Outside Sweden, we have also noted that there will be more and more restrictions, limitations and increased costs for motor homes, heavier than 3.5 Tons. This vehicle, we will keep at least two more years and if we would like to replace it, we have difficulty today, seeing our new motor home would become larger and heavier. Rather smaller and lighter, because we like travelling to far places. Diesel fuel is not likely to become cheaper in the future and with the growing number of motor homes in Europe, the restrictions will increase and it will become more difficult to find a good night parking area.
1 September 2012, JvH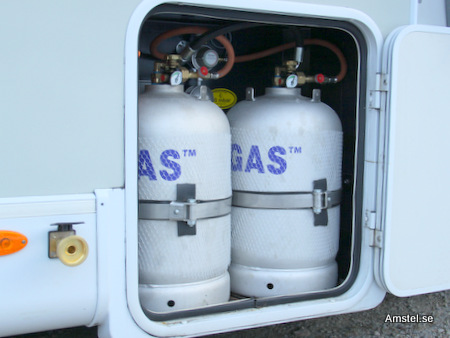 LPG-gas tanks with automatic filling limiter and outside filler valve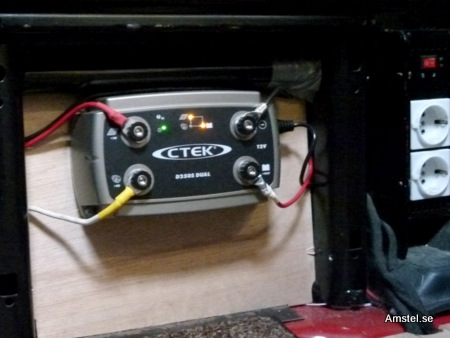 Cetek D250S Dual for efficient loading of our batteri system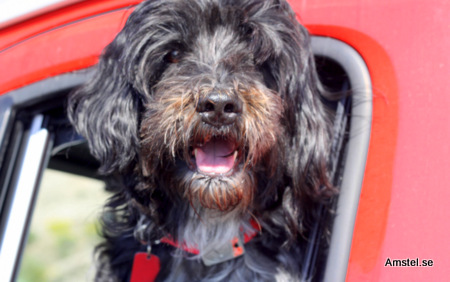 "I'm watching here!"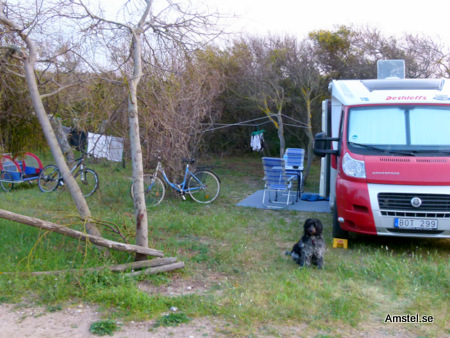 Campsite "Nurapolis", Sardinia, March 2012